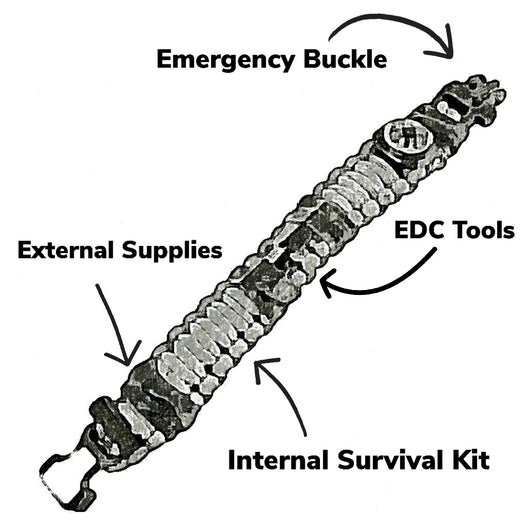 Custom Superesse Strap - Modify a paracord bracelet and select 100s of survival items and EDC gear.
Regular price $10.00 Sale
Build a bracelet (or keychain lanyard) to fit your specific needs. This bracelet will use a multipurpose buckle as an attachment device allowing you to easily slip it on and off. You can add a tool to the outer band as well as smaller supplies which we'll tuck away under ranger bands. The ranger bands (black rubber bands) wrap around the bracelet and aid in securing removable items. A supply core will be inserted inside the center of the weaved paracord.  This is where internal items will be stored. The internal items can't be access unless you breakdown the stap in an emergency event.
Bracelets will be delivered fully assembled and ready for wear unless you select the Do It Yourself (DIY) option. 
Choose a Buckle. (if you want to build a ParaKeeper lanyard choose the HK Clip)
Choose an EDC Tool. (this is a single tool that is tethered to the outer paracord assigned for multiple uses)
Choose External Supplies. (these items attach to the outer band and can be accessed without tearing down bracelet)
Choose Internal Supplies. (these items are stored inside an inner core and only accessible after unraveling the bracelet).
We'll add 4 ranger bands free to all orders.  Each strap comes shipped in a steel round storage tin.
---
This is a fully customizable bracelet. You select everything.  Design it in a fashion that will offer you the most daily use, or the most value following a survival scenario.  Keep in mind that more doesn't always mean better as an overloaded bracelet may not fit comfortably. To choose the best fit, measure your wrist and select the correct size using the sizing guide in our FAQ. We cannot guarantee sizing on custom orders even if you selected the correct size, the nature of ambiguity of 1000s of variations means sizing may vary by a half inch.
*Make all your selections on this page only. Once you proceed to your shopping cart, you will not be able to make additional changes. Removing an option from the shopping cart may cause errors. If a change is needed after you have added the strap to your cart, you must completely remove ALL items from cart and start over again.
*The cart page will look confusing, no need to get worked up trying to figure it out, all the items are for admin purpose. Just ignore the placeholder items.
*Paracord is standard $10 and required on all orders.  Firecord and Survivor Cord are $20.